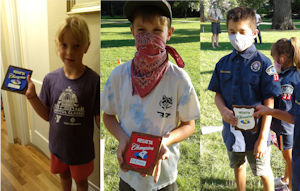 July was our midsummer pack meeting…we'd spent the month prior putting our boats together and decorating them, and now it's time to race!
We did things a little different this time around. Instead of gathering around the track, we watched from a little ways away, and instead of blowing the boats along, we had them use fans….but the excitement of racing was still the same, and so too was the the rewards for victory.
From paints to decals to hand-drawn designs, there's no wrong way to decorate a raingutter regatta boat.