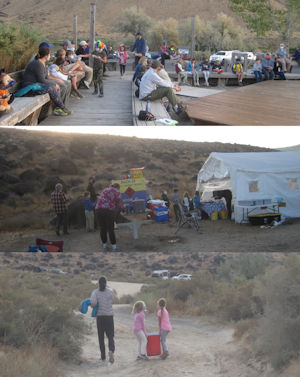 One of our most looked forward to events of the year is also one of the first big things our new Cub Scouts get to do. Our September Camp each year is near the end of the month, and is setup so that when someone new joins, they get a chance to go camping right away. We put the Outing in Scouting right from the very start.
For 2020, we went to Celebration Park, near Melba. The area has both short and long hiking trails, and sits right on the Snake River. Most noteworthy, though, the park is the site of native American petroglyphs…a great chance to learn a little bit of history.
Exploring among the rocks, meals provided by the Coopers all weekend long from their portable kitchen, learning pocketknife safety, and a great campfire program (without the campfire) on the Atl-Atl range. It made for a windy, but extremely fun weekend.